Registration certificate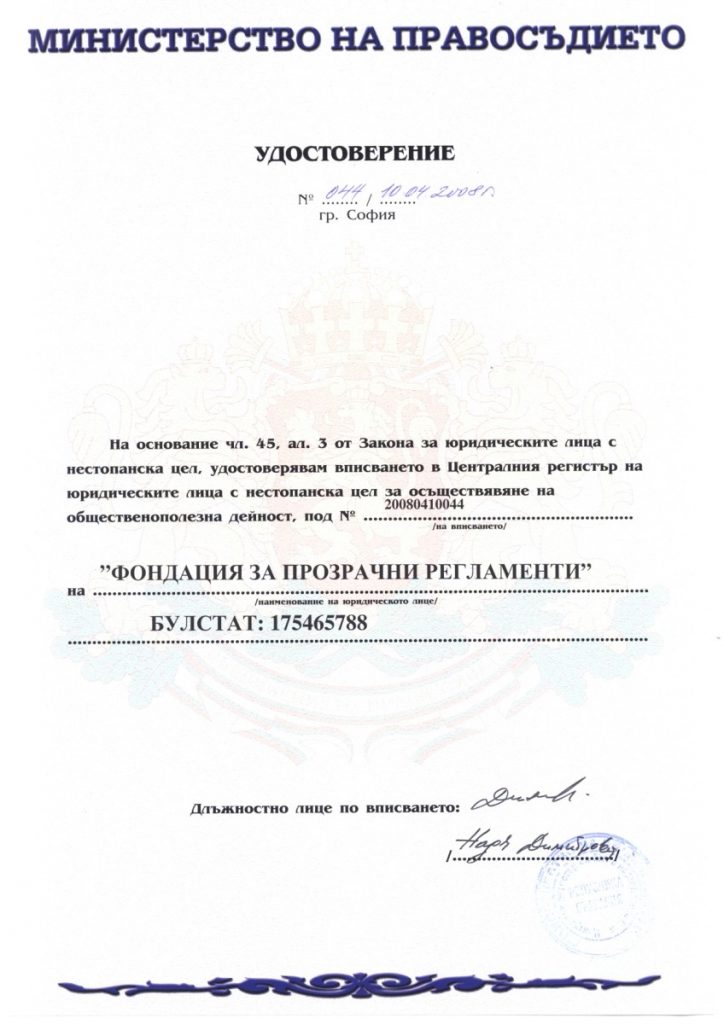 Foundation for Transparent Regulations is non-profit legal entity for the performance of activity in the public interest, not having any political and religious nature, supporting the construction of mechanisms and structures within the Bulgarian civil society, social adaptation of personality and democracy in all areas of the public-political life in the Republic of Bulgaria.
Inspired by the Strategy for Innovation and Good Governance at Local Level of the Council of Europe, that was adopted in Valencia in October 2007, we, a handful of enthusiasts, have decided to establish Foundation for Transparent Regulations and to work through it to achieve the goals of The Strategy:
Citizens to be heavily involved in all democratic processes;
Ensure that local authorities commit themselves to improving their performance in accordance with The Strategy and its 12 principles;
The State and the regional authorities to establish and promote institutional prerequisites for improving local governance based on the European Charter of Local Self-Government and other Council of Europe standards.
Afterwards Bulgaria has become a pilot country for the implementation of the European Label for innovation and good governance at local level which gave us even more confidence to stimulate and initiate actions in order to ensure that:
Citizens are aware of their right to have good governance;
Local authorities know their strengths and weaknesses and to know how to improve their governance in the most efficient way possible (evaluation);
The local authorities accept that both internal and external comparison is possible and advisable, and that they can draw inspiration from their nationals and European partners).
Thus, on March 17, 2008, a foundation was established in the Register for Non-Profit Legal Entities by a Decision No. 1 of the Sofia City Court with the name FOUNDATION FOR TRANSPARENT REGULATIONS.
Foundation for Transparent Regulations was entered in the Central Register of Non-Profit Legal Entities for Performing Public Beneficial Activities under No. 20080410044 by Certificate No. 044 / 10.04.2008 of the Ministry of Justice.
The Foundation has established annual awards recognizing transparency in the work of Bulgarian regional and municipal administrations. The awards aim to improve transparency in and quality of public administrative services as well as the accountability of public administrations to citizens and business. The prize is a bronze statuette crafted by the Bulgarian sculptor Raynis Gelov and is presented in four categories
Category 1: Most transparent regional administration;
Category 2: Most transparent municipal administration;
Category 3: Best partnership practice between a regional administration and civil society structures for achieving transparency in the administration's actions;
Category 4: Best partnership practice between a municipal administration and civil society structures for achieving transparency in the administration's actions.